Two-day online charity finance professional conference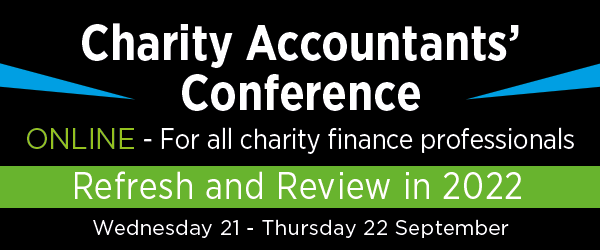 As many charities start to re-establish themselves after the past couple of years and look at what the sector landscape is like as we rebuild after the pandemic, it is also just as important that we give ourselves times to refresh and review.
Finance teams across the sector have been crucial to keeping organisations going, with many of us working erratic hours, taking on additional work during the furlough period and implementing new processes, products and services to ensure we have kept delivering to our beneficiaries. Now it is time for us all to review risk approaches, reserves policies and the impact on staff wellbeing and health in light of the post-pandemic environment.
This conference offers the opportunity to take time to refresh and review, so we can better plan our next moves.
Over the two days of the conference we will cover:
Regulatory/policy review
Commission update
Digital innovation
Look at the role of wellbeing, mental health and managing stress
Managing staff remotely
Organisational resilience
Charity reserves
Leadership
With prices starting from £139, you will receive opening and closing keynotes (incl. catch up recordings of these sessions), breakout sessions and panel discussions with Q&As, certificate of attendance for CPD hours and opportunity for 1-1 drop-in sessions with Sayer Vincent!
For full details of this conference including information on how to book and payments, please contact Directory of Social Change or click the link below:
A discount code is available exclusively for Sayer Vincent clients! Please contact Anneliese Korkaya to receive this.
SV staff speaking at this event: